From Albert Bevia: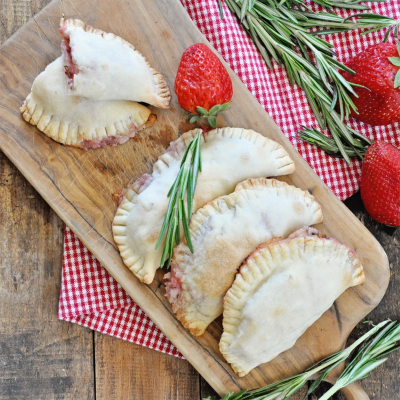 Spain is famously known for their empanadas and these Manchego Cheese Empanadas with Strawberries & Rosemary have to be one of the best ones ever. These empanadas are sweet & savory and they have an incredible combination of flavors. This recipe is super easy to make, uses minimal ingredients and the empanadas are done in about 30 minutes from start to finish. Perfect for a tapas party or serve next to a salad for a complete meal. For this recipe I used premade store bought pizza dough, just to make things easier.
Watch Albert preparing this recipe: https://www.youtube.com/watch?v=tvlgBRhtfbE&t=12s

Ingredients
1 premade pizza dough
1 block manchego cheese
6 fresh strawberries
1 sprig fresh rosemary
pinch sea salt
pinch black pepper
2 tbsp extra virgin olive oil
Instructions
Wash and pat dry 6 fresh strawberries, cut the end off each strawberry, then cut each one in half, cut each half in half and roughly chop it, add the cut strawberries into a large bowl
Wash and pat dry 1 large sprig of rosemary, remove the needles from the stem and roughly chop the rosemary needles, add them into the bowl with the strawberries
Season everything with sea salt and freshly cracked black pepper, mix together until well combined and set aside
Thinly slice about a 1/4 block of queso Manchego, remove the rind and cut each slice into 4 pieces
Roll out one premade pizza dough, using a circular cutter (mine was 3 1/2 inches in diameter) cut out some small circles of dough from the pizza dough, you should end up with about 6
Sprinkle some all-purpose flour into a flat surface, dust each circle of dough on the flour, add a couple pieces of the Manchego cheese to each dough and then some of the strawberry mixture (about 2 tbsp), fold each dough together and using a fork pierce the outer edges on both sides to ensure all the ingredients stay inside (don´t over-stuff your empanadas otherwise they will explode while baking)
Add the empanadas to a baking tray lined with parchment paper and brush each one with some extra virgin olive oil, add into a preheated oven, bake + broil option 210 C -410 F, after 15 to 16 minutes remove from the oven and let them rest for 5 minutes, enjoy!