From Albert Bevia:
Sevilla, Spain. What many consider, one of the most beautiful cities in the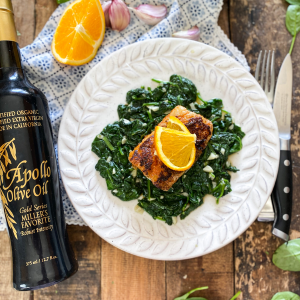 world. It´s full of art & culture, amazing architecture and offers some of the most popular foods in Spain. In this recipe, I will show you how to make one of Sevillas best dishes, Orange Cod with Sautéed Spinach.
TIPS & TRICKS to Make this Recipe: I used frozen cod that I thawed out. The secret? Make sure to pat it completely dry with paper towels. That way when you cook the cod, its got a great texture and it absorbs all the flavors. I also used fresh bagged spinach. But you can use frozen spinach. Just make sure to thaw it out and fully drain any excess liquid.
To see Albert making this recipe go to: https://www.youtube.com/watch?v=6sKfn1lV6hs

Orange Cod with Sautéed Spinach
Ingredients
14 oz fillet cod 400 grams
1 large orange
1 tsp sweet smoked spanish paprika 2.30 grams
1/2 tsp cumin powder 1 gram
1/2 tsp garlic powder 1.64 grams
1/2 tsp onion powder 1.17 grams
1/2 tsp sea salt 2.9 grams
dash black pepper
10 oz fresh spinach 300 grams
3 tbsp extra virgin olive oil 45 ml
4 cloves garlic roughly minced
2 slices orange for garnish
Instructions
Pat dry a 14 oz piece of cod with paper towels, cut into 2 evenly sized fillets, add to a shallow bowl
Squeeze the juice out of 1 large orange, pour over the cod fillets, cover with saran wrap and add to the fridge
Meanwhile, add 1 tsp sweet smoked paprika into a bowl, along with 1/2 tsp cumin powder, 1/2 tsp garlic powder, 1/2 tsp onion powder, 1/4 tsp sea salt & a dash of freshly cracked black pepper, mix together until well combined
After 15 minutes remove the cod from the fridge, add the cod fillets to a wire rack, evenly sprinkle the spice mix on the cod fillets, do this on both sides
Heat a large pan with a medium heat and add in a generous tbsp of extra virgin olive oil, after 2 minutes add in 4 cloves garlic roughly minced, mix with the olive oil, after 30 seconds add in 10 oz of fresh spinach, I like to add it in batches so it doesn´t overflow out of the pan, mix with the garlic and olive oil so it easily wilts, once it has all been added and the spinach is wilted, season with sea salt & black pepper, give it a quick mix, turn off the heat and place a lid on the pan
Heat a nonstick fry pan with a medium-high heat, after 3 minutes add in 2 tbsp of extra virgin olive oil and add the cod fillets into the pan, after 3 minutes gently flip the cod to cook the other side (the thickness of my fillets where 1-inch), after a total cooking time of 6 minutes remove the pan from the heat
Evenly divide the sauteed spinach into 2 serving dishes, add 1 fillet of cod on top of each spinach dish, garnish with a slice of orange, serve at once, enjoy!