From Albert Bevia: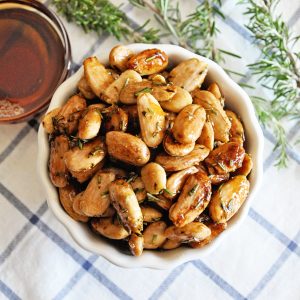 For this recipe I used raw blanched marcona almonds, but you can use any type of almonds that you like. However, I do recommend you use marcona almonds. They have a heart-like shape to them and offer an incredible flavor & texture. What really takes these roasted almonds to the next-level is the extra virgin olive oil. The olive oil is what cooks the almonds through while they are roasting and gives them that incredible flavor. For this recipe I used an Organic Extra Virgin Olive Oil from Apollo Olive Oil. This is their new ¨Miller´s Favorite¨. Basically the best EVOO I have tasted from Apollo. If you´re a fan of EVOO like me, you need this olive oil in your life.
Roasted Spanish Marcona Almonds with Honey & Rosemary
Watch Albert preparing this recipe: https://www.youtube.com/watch?v=O3xJ12YssLs&t=7s

Ingredients
2 cups raw blanched marcona almonds
2 tbsp extra virgin olive oil
2 tbsp honey
1 1/2 tsp fine sea salt
4 sprigs fresh rosemary finely chopped
Instructions
Add 2 cups of raw blanched marcona almonds into a large bowl, also add in 2 tbsp of extra virgin olive oil, 2 tbsp of honey, 1 1/2 tsp of fine sea salt and 2 tbsp of freshly chopped rosemary, toss together until everything is well combined
Add the coated almonds into a baking tray lined with foil paper (reserve the bowl the almonds where mixed in), using a spoon make sure all the almonds are in a single layer so they all roast evenly
Add the almonds into a preheated oven, bake + broil option 190 C – 375 F between 15 to 17 minutes, making sure to keep an eye on them so they don´t over-cook
After roasting the almonds remove them from the oven and add back into the large bowl, add in 1 tbsp of freshly chopped rosemary and toss together, add the almonds back into the foil paper and once again make sure they are in a single layer, leave them to air dry
After letting the almonds air dry for 10 minutes, they are ready to be served, store in an air-tight container, they will hold for up to 7 days, enjoy!