From Albert Bevia: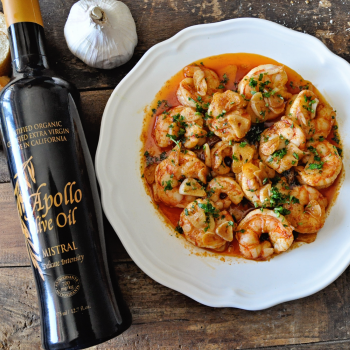 In this post, I will show you how to make the most Garlicky Spanish Garlic Shrimp ever! Seriously folk´s, this dish has so much garlic, it´s gonna blow your mind. This tapas dish is loaded with flavors, super easy to make and done in 20 minutes.
To make this dish I used frozen shrimp I thawed out, just to make things easier and cheaper. The secret when using frozen shrimp that you thaw out? Make sure you pat them completely dry with paper towels. This removes any of the excess moisture in the shrimp, giving them a beautiful texture and flavor.

The Most Garlicky Spanish Garlic Shrimp
Watch Albert preparing this recipe: https://www.youtube.com/watch?v=3aWtsxfXcdA

Ingredients
15 raw jumbo shrimp (peeled & deveined) 1 head garlic
1/4 cup extra virgin olive oil
1 tsp sweet smoked Spanish paprika
pinch sea salt
pinch black pepper
handful freshly chopped parsley
Instructions
Thinly slice all the cloves of garlic from one head of garlic, pat down 15 raw jumbo shrimp (peeled & deveined) with paper towels and season them with sea salt & freshly cracked black pepper
Heat a fry pan with a medium heat and pour in a 1/4 cup of extra virgin olive oil, after 2 minutes add in the sliced garlics and mix around with the olive oil, then instantly add in the shrimps seasoned side down, after 1 minute flip the shrimp, after a total cooking time of 2 minutes add in 1 tsp of sweet smoked Spanish paprika, give it all a mix until well combined and then transfer to a serving dish
Sprinkle the shrimp with freshly chopped parsley and serve next to a crusty baguette to mop up all the olive oil and garlic, enjoy!