Marinated Garlic Mushrooms | Champiñones a la Jerez Recipe
From Albert Bevia:
TIPS & TRICKS to make this Recipe: Instead of adding the garlic into the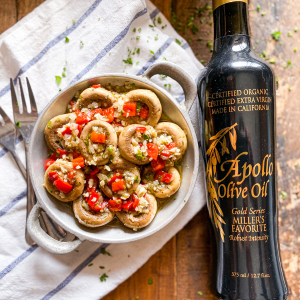 marinade, I cooked them for about 15 to 20 seconds with the mushrooms. This makes them aromatic and takes the dish to another level. Also make sure to cook your mushrooms on a medium heat not a medium-high heat. That way the flavor of the olive oil goes into each mushroom.
For those of you that follow Spain on a Fork, you know I´ve been making a ton of bread recipes during this lockdown. There is just something so rewarding about making homemade bread.

Watch Albert preparing this recipe: https://www.youtube.com/watch?v=SVNuwq3dlzM&t=11s

Ingredients
12 button mushrooms
2 tbsp finely diced onion 6.50 grams
1 roasted red bell pepper
4 cloves garlic finely minced
1/4 cup extra virgin olive oil 60 ml
2 tbsp sherry vinegar 30 ml
1 tbsp freshly chopped parsley 3.80 grams
1/2 tsp dried thyme .45 grams
pinch sea salt
dash freshly cracked black pepper
Instructions
Begin by making the marinade, add 2 tbsp finely chopped onions into a bowl, pat down 1 jarred roasted red bell pepper and roughly chop, add into the bowl with the onions, pour in 2 tbsp extra virgin olive oil, 2 tbsp sherry vinegar, 1 tbsp freshy chopped parsley and 1/2 tsp dried thyme, mix everything until well combined and set aside
Wash and pat dry 12 button mushrooms, making sure to remove the stems as you clean them
Heat a large fry pan with a medium heat and add in 2 tbsp extra virgin olive oil, after 3 minutes add in the mushrooms hole side up, after 2 1/2 to 3 minutes flip the mushrooms to cook the other side, after another 2 1/2 to 3 minutes add in 4 cloves garlic finely minced and mix everything together, after 15 to 20 seconds remove the pan from the heat and add the mushrooms and garlic into the bowl with the marinade, mix until well combined and cover with saran wrap, set aside at room temperature
After letting the mushrooms sit in the marinade for at least 15 minutes, transfer the mushrooms into a serving dish using a slotted spoon, making sure to top them off with the vegetables in the bowl, serve at room temperature or cold, enjoy!