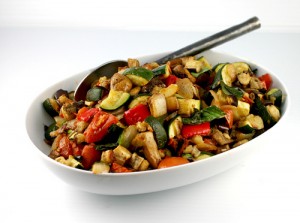 It is that time of the year when Nature is at its most abundant producing overflows of tomatoes, zucchini, eggplant, and peppers. How do you eat it all without it going bad? Well, there are many ratatouille recipes out there but this tops them all. The amounts below are just suggestions, it works well with any quantities your garden is producing or with the bounty your friends are giving to you.

4 tomatoes
1 eggplant
1 large zucchini
2 bell peppers of any color
1 onion
12 cloves of garlic
salt
pepper
Herbes de Provence
your favorite Apollo Olive Oil
fresh basil
Apollo Balsamic
Preheat oven to 400
Cut all vegetables into bite sized pieces and place in a large bowl. Drizzle generously with your favorite Apollo Olive Oil. Add salt, pepper, and Herbes de Provence and toss until well combined. Place in a large baking dish or two if needed and place in the oven for 1 and a half hours. For the first hour stir every 20 minutes, for the second half hour stir every 15 minutes until the vegetables are tender and nicely browned.
Serve by tossing with fresh basil and a dash of Apollo Balsamic condiment.
This is a wonderful version on the old classic that gives a wonderful rich roasted flavor and it makes the house smell great. It is also very versatile, it can be used over pasta or rice, in sandwiches, and as a side dish.