Spain is known for having some of the best seafood dishes around, and this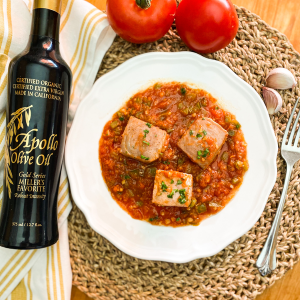 Spanish Tuna in Tomato Sauce is no exception. Loaded with flavors, super easy to make and comes together in just about 30 minutes.

This dish hails from the province of Cádiz in the region of Andalucia, where it´s known as Atun en Tomate. It´s basically fresh tuna that you cook in olive oil and serve with a homemade sauce. Another Spanish dish where simplicity meets extraordinary.
TIPS & TRICKS to Make this Recipe: The secret to this recipe is not overcook the tuna. Just brown it on all sides on a medium heat and then remove from the pan. Then you add it back to the pan with the tomato sauce and heat it through. If you overcook the tuna, it will get a tough texture and not absorb all the flavors from the tomato sauce.
To see Albert making this recipe go to: https://www.youtube.com/watch?v=z-HsMd5xikc

Spanish Tuna in Tomato Sauce | Atun en Tomate de Cádiz Recipe
Ingredients
2 tbsp extra virgin olive oil 30 ml
2 fresh tuna steaks 200 grams each (7 oz each)
2 cloves garlic
1/2 onion
1/2 green bell pepper
5 tomatoes
sea salt & black pepper
handful freshly chopped parsley
Instructions
Finely grate 4 to 5 ripe tomatoes, you want to end up with about 2 cups of grated tomato, roughly dice 1/2 green bell pepper, finely dice 1/2 onion, finely mince 2 cloves garlic, grab 2 fresh tuna steaks (about 1-inch | 2.54 cm thick), pat them dry with paper towels, season with sea salt & black pepper on both sides and cut into 1-inch (2.54 cm) pieces
Heat a large fry pan with a medium heat and add in 2 tablespoons extra virgin olive oil, after 2 minutes add in the pieces of tuna, move the tuna around every 15 to 20 seconds to evenly brown all the sides, after about 2 minutes and all the sides have been browed, remove the tuna from the heat and set aside
Using the same pan with the same heat, add in the diced green bell pepper, diced onion and minced garlic, mix with the olive oil, after about 5 minutes and all the ingredients have a light golden fried color, lower the fire to a low-medium heat, then add in the grated tomato and season with sea salt, black pepper and a little white sugar, mix together and simmer for about 10 minutes
After 10 minutes and the grated tomato has thickened up, add the pieces of tuna back into the pan, gently mix them around so they are coated in the tomato sauce, after 2 minutes remove the pan from the heat, sprinkle with freshly chopped parsley, serve next to a crusty baguette, enjoy!