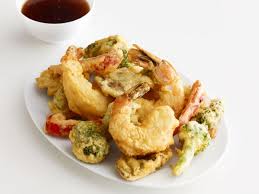 This is some fun comfort food. It is not really hard and it is tasty. You can really use any vegetables you like cut into bite size pieces.
1 cup of wheat or rice flour
1 cup of cold mineral water
1 small onion, cut in half then in strips
1 head of broccoli, cut in bite size pieces
12 fresh shrimp, shelled and deveined
1 bottle of Apollo Salute oil

Dipping Sauce
3 tbsp of mayonnaise
1 tsp of Sriracha sauce
dash of lime
dash of salt
Pour a bottle of Apollo Salute oil into a wok and heat to 350 degrees.
Mix the water and flour in a bowl with a fork. The mixture should be a little watery as opposed to thick.
Using tongs dip the bite size morsels into the flour mixture shaking off the excess then place in the oil. Put as many in as you can without crowding. Cook in the oil until the flour coating turns a light brown, about 4-6 minutes. Remove the morsels shaking off the excess oil and place on paper bag and lightly salt. Continue until done.
For the dipping sauce combine all ingredients according to taste.
This batter makes a very light and crisp coating. The coating on the broccoli is not very visible after you are done but it comes out full of flavor. And contrary to popular opinion and much incorrect internet advice you can deep fry very safely and to wonderful results using real extra virgin olive oil.