From Albert Bevia: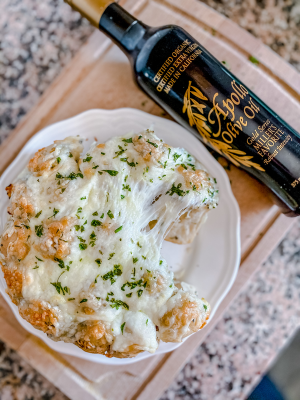 TIPS & TRICKS to make this Recipe: I used the bake + broil option when I baked this bread. If your oven can´t do both functions at the same time, just bake it for the same time I baked mine, then add to the broiler for 2 to 3 minutes. Or, if you have the bake option with fan, just use that setting with the same baking time. Maybe a 1 or 2 minute difference, since every oven heat´s differently.
Cheesy Garlic PULL-APART Bread
For those of you that follow Spain on a Fork, you know I´ve been making a ton of bread recipes during this lockdown. There is just something so rewarding about making homemade bread.

Watch Albert preparing this recipe: https://www.youtube.com/watch?v=U_lk54M-Vmg&t=297s

Ingredients
3 cups all-purpose flour
3 tsp baking powder
1 tsp sea salt
1 1/2 tbsp dried oregano
1/4 cup extra virgin olive oil
1 cup water
7 oz block mild Manchego cheese
4 cloves garlic
Instructions
Cut 24 cubes that are 1/2 inch by 1/2 inch from a block of Manchego cheese, then shred a generous 2 cups, set aside
Add 3 cups all-purpose flour into a large bowl, along with 3 tsp baking powder, 1 tsp sea salt and 1 tbsp dried oregano, mix the dry ingredients together, then add in 3 tbsp extra virgin olive oil and 1 cup water, mix all the ingredients together, once they start forming a dough get in there with your hands and continue to mix, once you end up with a compact dough, knead inside the bowl for 1 to 2 minutes, shape into a ball
Sprinkle some all-purpose flour on a clean flat surface, add the ball of dough on top, cut it into 3 evenly sized pieces, shape each one into a ball, cut each ball of dough into 8 evenly sized pieces, to end up with 24 pieces of dough
Grab a cube of the cheese and add into a piece of dough, seal the dough well over the cheese and shape into a ball, do this until you end up with 24 stuffed pieces of dough
Line an 8-inch round baking pan with parchment paper, add the balls of dough, making sure they´re all tightly compacted together
Add a generous tbsp of extra virgin olive oil into a bowl, shred in 4 cloves of garlic and add in 1/2 tbsp dried oregano, mix until well combined, pour the mixture over the pieces of dough and brush all over until it´s evenly divided

Add the baking pan into a preheated oven, bake + broil option 210 C – 425 F, after 15 minutes open the oven and slide the pan out, sprinkle the shredded cheese all over the bread and add back into the oven, after 5 minutes remove from the oven, transfer to a serving dish, sprinkle with freshly chopped parsley and serve at once, enjoy!